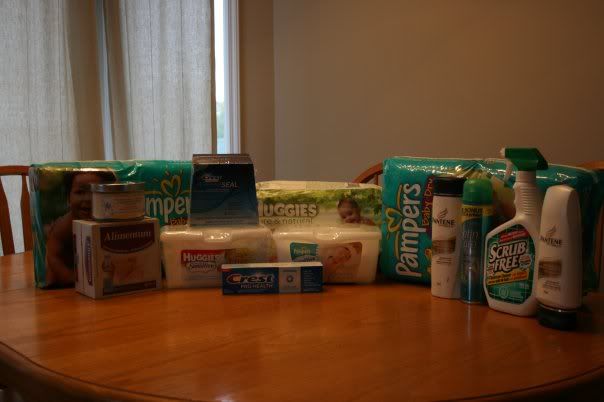 Another London Drugs ( LD) shopping spree
2 bags of Pampers - $18.99 PM w/ SDM $13.99 X2 =$ 27.98 - $25.00= $2.98
Crest Pro Health Tooth paste- $2.99-$3.00= FREE
Satin Care Gel- $2.99-$3.00= FREE
Crest White Strips-$49.99- PM w/ SDM $29.99- $30.00= FREE
Scrub Free- $2.99-$2.75=$0.24
Panteen Shampoo & Panteen Conditioner $3.99 each = $7.98-$8.00= +0.02
Pampers wipes- $4.99-$2.00= $2.99
Huggies Wipes- $3.99-$3.99= FREE
Glade Candle $8.99- $8.99 Mail in Rebate= FREE
Huggies Pure Natural Diapers $12.99-$13.00= FREE
Alimentum $6.99-$5.00= $1.99
Tax $5.29
Total $25.12
( the cashier screwed up on one coupon it was suppose to be $3.00 and she only put $0.30)
After the rebate I would have paid
$16.12
Coupon savings of $88.04
Mail in rebate of $8.99
PM- Price Matched
SDM- Shoppers Drug Mart
The - amounts were my coupon amounts/ item
Where can you find Canadian Coupons?
Mail coupons: ( you order free online, they will be mailed to you within a week)
Printable:( Never change the sizing of a coupon, it is considered Fraud just like altering money)
When you shop using your Visa-
Newsletters ( sends coupons, samples each month)
Paid Coupons
22. Don't forget Ebay. Ebay is a good place to get started with coupons. Make sure you are not paying to much for them, that they are Canadian, English and watch for shipping costs.
Well there is 23 coupon sites to get you started. If you know of anymore sites please share them. I will continue to add more savings tips soon :)