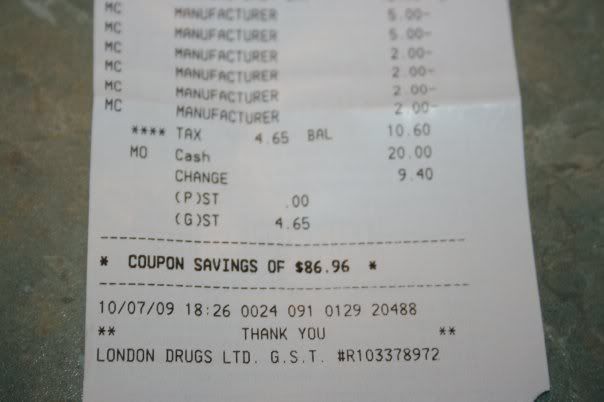 Tips For Using Coupons
Starting out:
Look through your fliers for best deals
Check your cupboards for needed items
MAKE A SHOPPING LIST- Know what is on sale, what you need to buy no matter what and what is on your wish list. I write on my list how many coupons I have for each product. That way I don't have to go through my coupons in the store to find out how many I have
Know the stores coupon/ price matching policies
Organize all your coupons the night before at home:
Clip all like coupons together ( do not staple)
Check all Expiry Dates
Check all conditions ( can not be combined with any other offer, good only in the USA, can only be used at such in such store, can only be used when you buy a certain size, an additional product etc)
Put all the coupons you are planning on using in an envelope ( take your coupon binder in case you come across a great deal, but it is much easier to shop if all the coupons you are using are in an envelope)
Bring competitor fliers for price matching
During Shopping:
If at all possible, do not bring the kids or at least bring help with the kids
Never shop hungry you will buy extra stuff you don't need
Try to shop at times you are not rushed, time to browse- Some of the best Deals are in the clearance bins. $5.00 Shampoo marked down to $1.00 and then use your 1.00 coupon, you get the product completely FREE
Also do not shop at the stores busy hours- Lines are longer, cashiers are more rushed and not in the best moods. I like early mornings or late in the evenings
Remember something is not a deal if you don't need it or are not going to use it.
Cashing Out:
Often it is best to go to Customer Service to cash out- That way you are not holding up lines, the customer service rep often has the authority to accept questionable coupons, they usually know the policies better, it is also easier to price match at CS
If you have a huge cart and ALOT of coupons you could also ask for the cashiers to open an extra till
Be nice to your cashier, cashiers will start fighting you on policies if you are rude, but if you are nice they will usually go out of the way to be nice to you
Ask the cashier if she prefers the coupons with each item or at the end ( I prefer with each item that way if there is a problem with a coupon, you can check the product at the same time)
Don't forget to use your Airmiles and stores cards ( Save on Card, Optimum Card, Sobeys Card etc) the points add up fast
Enjoy your savings!